A Kniterate knitting machine is pretty heavy, and we don't want you to hurt yourself when you're eagerly unpacking and setting up your machine. We strongly recommend using a professional service to lift, carry and place the machine, such as piano movers or furniture movers for example, and to always carry or lift the machine with a minimum of 4 people. Never try to carry or lift the machine on your own.
Please use gloves, goggles, and safety boots during transportation and rehearse the operation of lifting and carrying the machine to ensure the way is clear and nothing unexpected will occur.
Find a complete unboxing and transportation video here.
If possible, please keep the machine crate, in case the machine needs to be moved to a different location someday.
Transportation of the crate
The crate with contents weighs 340 kg / 750 lbs and measures 180cm x 100cm x 90cm / 71″ x 39″ x 35″ (Width x Height x Depth).
Your machine will be delivered in a sturdy wooden crate. We recommend moving the crate as close as possible to where you want the machine to be set up using a pallet jack. If using a pallet jack is not possible for you, you can place it on dollies as well, but note that you will want an extra set of dollies if you still need to move the machine without the crate.
Transportation of the machine
After opening the crate, you can move the machine to the workbench you will place it on.
The machine weighs 250 kg / 552 lbs.
We redesigned the machine to make it modular to facilitate transportation. We've created this tutorial on dividing the machine into two main blocks.

Always lift the machine from both sides simultaneously using the handles. Make sure to never tilt the machine by lifting one side from the surface only. This could irreversibly damage the internal components of the machine. It can be tilted only when you lift the machine from both sides.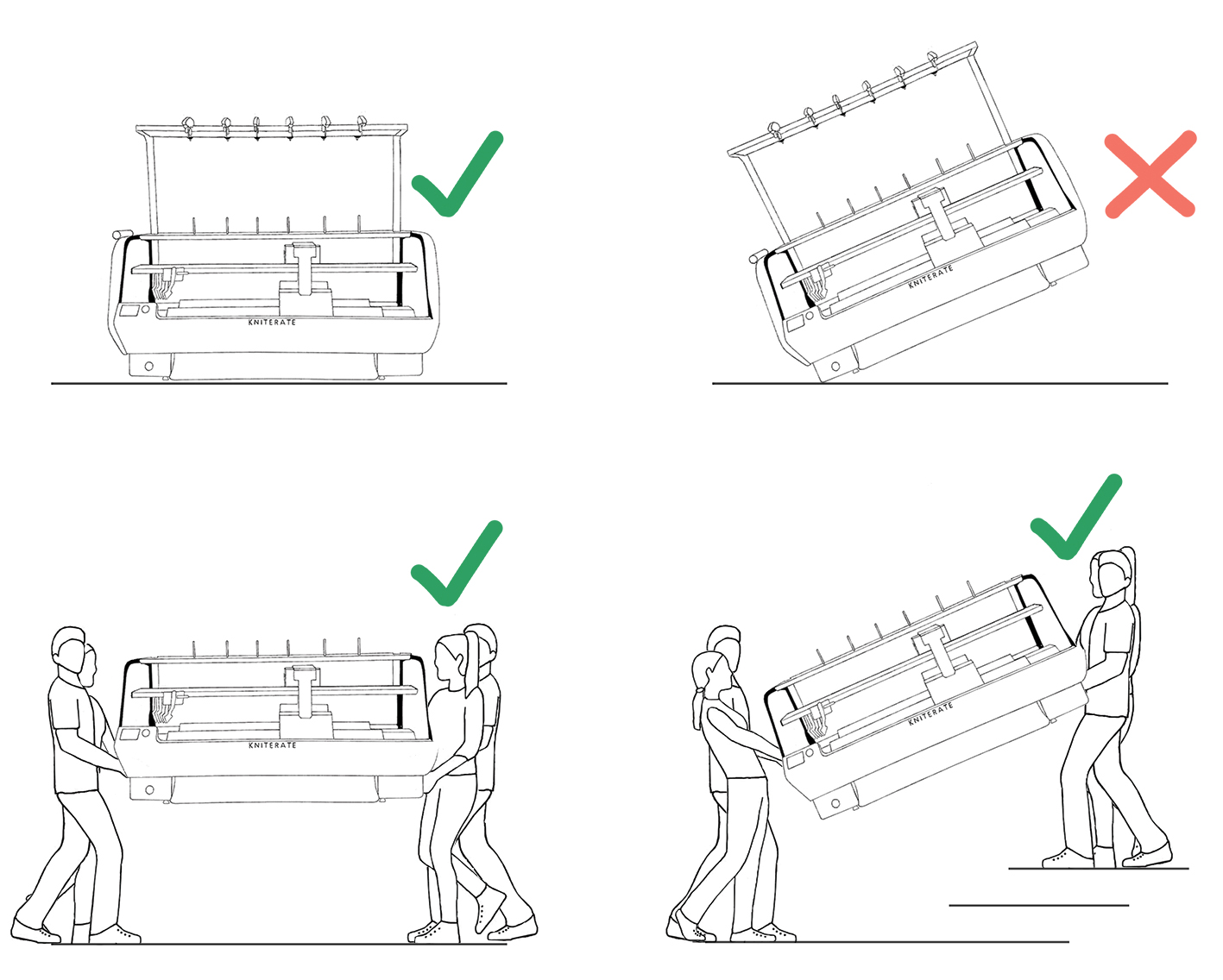 Note: The machine's weight is distributed more in the back than in the
front. It is advised that the persons carrying the back use two handles each,
while those carrying the front use one handle. Optional: Remove the carriage to decrease the weight of the machine by
25 kg / 55 pounds.